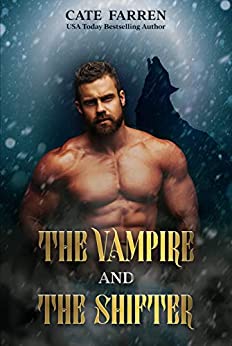 A vampire and a wolf shifter fall in love… and they will fight tooth and claw to be together.
From USA Today bestselling author Cate Farren.
"My name is Alanna.
I'm a vampire.
I've lived on my own in a cabin in the woods for 150 years. I'd prefer if it stayed that way.
One day a critically injured wolf shifter, an alpha called Valko, lands on my doorstep. I have to nurse him back to health, but I didn't have to fall in love with him. We have such passion, such a connection. Now all of a sudden I don't want to be alone. I want to be with him.
But there are forces out there working against us, and secrets that could tear our world apart…
I will fight for my shifter.
He will fight for me.
We will be together, no matter what."
This paranormal romance is part of the Vampire Inheritance Saga universe, though you don't have to have read any of those to enjoy this as this novel is a prequel and a complete stand-alone novel.
Previously released as Love and Werewolves. This version has been re-edited and expanded.
This paranormal romance is stand-alone, with a HEA, steamy scenes, and a very sexy wolf shifter, and is perfect for fans of Kresley Cole, Christine Feehan, Gena Showalter, and Jaymin Eve.